I've written a few posts bitching and moaning at people who can't seem to post opportunities or job ads for graduates without making them or their businesses look exploitative, ignorant or both. Rather than bore you with another one of those, it's probably time to admit that when it comes to Universities preparing students for and making students aware of good creative industry opportunities for long term career development, some can do a poor job.
I did 4 years at the UWS in Ayr working towards an degree in Digital Art which was a hodge-podge of 3D animation, graphics and fine art. Other than screaming the answer to a University Challenge question about a dutch art movement once and getting it right, not much of what I learned has been used or retained.
This is less the fault of my lecturers and the course material and more my own. I had been messing around with web design and development since my late teens and instead of choosing a more apt degree or committing fully to my pretentious bullshit and going to art school, I went for something general where I could try my hand at a few different things but I'd still leave with a bit of paper saying I could do something art related in digital.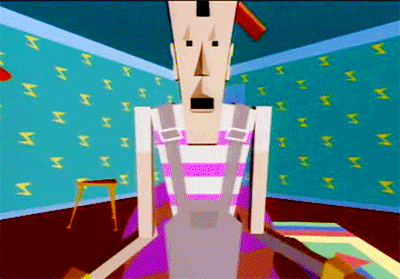 Everything I ever animated looked like I was ripping this off
I've already discussed how I got my first job so I thought I'd do something a bit different. Instead of my usual shouting at people on Twitter all day, I phoned and messaged a few industry folk and asked if they'd talk me through their degrees, first jobs and what they would have done differently with the benefit of hindsight.
Introducing GradPaths, a collection of stories and advice for graduates – in our usual style of writing – based on the short interviews these kind people gave up their time to humour me with. I'm hoping the site will act as a reference point for graduates with different skills seeking employment in Scotland's digital sector and will answer at least a few of the questions I may have had not so long ago before I landed my first junior role. If you'd like to give us a hand promoting the site or have any feedback or suggestions, drop us a line at hello@gradpaths.co.uk or tweet to us @gradpaths.
To give you a better idea why I decided to build something like this, I'll tell you about the first digital job I ever applied for. The company was an Edinburgh-based small but international design agency. For less than minimum wage, they wanted a designer and front end developer to work alongside a team of multilingual copywriters. Living in Glasgow, I asked a mate if I could crash on the floor of his studio flat the night before, got up early, had half a wash, put on a suit and trudged out to Loanhead, which is miles outside of Edinburgh's city centre. After a brief interview – during which me and the French MD attempted to understand each other – and a whole day of completing small web and photoshop tasks, I was knocked back and told I wasn't creative enough for the role. A month later, after two short interviews, I'd landed my first junior role at a small but reputable agency in Glasgow. Six months into that job, the original company got back in touch asking if I was still looking.
More creative than me
My point is that had I landed that first job and accepted it, I'd have been working out in the middle of nowhere under some absolute chancers who had no interest in helping me develop my skills, only what I could contribute to their business for the lowest possible investment on their part. If they hadn't knocked me back, even with their vague feedback, I wouldn't have found a better job with a better salary, better career prospects and better colleagues. If I'd done my research, I wouldn't have applied. If I'd networked at all, I probably would have been told by someone that it wasn't worth my time.
I do hope people continue to be attracted by working in digital as a career, as in Scotland, there can be a bit of a gulf of available talent. Getting in the door is the hard part, the harder part is building a solid career and reputation.
Note: This post originally appeared on the Habanero Digital blog meaning certain parts are probably weirdly self referential or talk about ongoing feuds that probably exist almost exclusively in the mind of the author.