In the past, I've written about why nobody can write good junior job ads due to unrealistic expectations and that design contests for students are absolute exploitation. I thought expecting UX and project management experience of a recent graduate or stealing ideas from eager students in exchange for unpaid internships were easily the bottom of the barrel when it came to creative industries job prospects. Consider this post an apology. I was wrong.
Imagine the scenario. You're a recently graduated graphic designer with a solid portfolio and a BA, unsure of your next move. You're desperate to break into the industry, maybe work client side a little and develop your portfolio. Work on some briefs for some real brands. Perhaps you like the odd coffee, maybe you're more of a tea drinker. You find a job ad for a Graphic Designer in Glasgow:
"Are you a graphic designer who loves coffee and are looking to strengthen your portfolio? We are looking for a full time graphic designer to work between our Head office and our coffee pods in Glasgow."
You begin to have second thoughts about your chosen career path. Do you really love coffee enough?
"In the morning you will be a barista serving great coffee and in the afternoon you will be designing our next product launch poster!!! You should have the ability to work on your own but also realise you are part of the Silverbean team, have strong organisational skills, have the ability to adapt to different situations and have some great ideas!! Job Type: Full-time Salary: £6.70/hour Required experience: Graphic design 1 year"
You quit, chuck your portfolio in the bin and go become a high school art teacher and/or a drug addict.
Coming next week to selected pods!! The caramel crunch cappuccino!!!! #CoffeeCulture #SilverBean #coffeelove pic.twitter.com/SCtDnRAmVM

— Silverbean Coffee (@silverbean1) October 29, 2015
"give in to the caramel!" Silverbean's current high standard of graphic design.
Working in small teams on one brand, ideally with more senior designers, is a good way to cut your teeth. With agencies currently readily exploiting or shunning potential new talent, graduates are likely to find better opportunities client-side in the interim. What lies behind the three-exclamation-point, smiling-through-clenched-teeth, potentially over-caffeinated excitement(!!!) of Silverbean's job ad is a whole new brand of exploitation: do the job you want to do for half the day and work directly serving our product to our customers for the other half, all for minimum wage.
The chosen hourly rate is significant as, at time of writing, £6.70 is the National Living Wage rates for 21 to 24 year olds. I would argue that this means, unofficially, anyone 25 and over need not apply. If you went straight from high school to University at around 18, the earliest you can graduate with your degree is 21. Add on that required extra year of graphic design experience and you have a window of roughly 2 years, from age 22 to 24, where you'll be eligible for the hourly rate Silverbean want to pay you.
The cynic in me (which is all of me) finds it hard to see their thinking as anything more than "I'm sure there's some art school graduate asshole in his early 20s working a minimum wage job at some crappy west end coffee house in Glasgow. Why don't we fire a job ad up and see if he's willing to do that job but also do our shitty product launch posters for us?"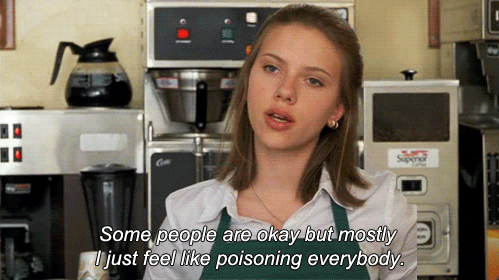 The idea that a skilled and somewhat experienced graphic designer should be paid the same as a barista is deplorable. What's worse is that the part of their job they've trained for 3 years to do and want to actually develop their skills in is preceded by a tedious morning of serving hot gunk to disinterested strangers, something I would think you wouldn't require a degree or graphic design experience to do. While it could be argued that understanding the business from multiple perspectives could add something to the design work, this could be done in a few days and clearly isn't their intention. It's about plugging two skills gaps with one overworked and underpaid candidate.
I'm perpetually amazed by businesses that post things like this then seem to be surprised when no one's falling over themselves to participate or apply. It's worth remembering that, while you're paid to care about the company you work for and its products or projects on a daily basis, everyone outside the business couldn't care less.
The job ads for a junior creative roles in Scotland make for some depressing reading. Good juniors will always be hard to find but what's become even rarer are businesses offering actual opportunities for those juniors to help them build long term careers in this industry.
And until more of those opportunities start appearing again, there's always art teacher. At least that way you're guaranteed a salary.
Note: This post originally appeared on the Habanero Digital blog meaning certain parts are probably weirdly self referential or talk about ongoing feuds that probably exist almost exclusively in the mind of the author.